Bob,
As we draw close to the end of my 15th season doing business with Perfecta, I just thought I'd take a moment to thank you and everyone at Perfecta for being an outstanding supplier. You make it easy for me to do business and stay in business because you are consistently attentive to the particular way I want things done, and you really shine when you effectively tackle my detailed special requests (which have been numerous).
I find that I don't have to spend a lot of time and/or energy crossing "T's" and dotting "I's" to avoid having products come off the truck incorrectly fabricated, missing parts, wrong size, wrong color, etc. The extremely rare errors have always been quickly corrected without subjecting me to additional paperwork, substantiation, RA's, etc. Additionally, I have found that my customers are always totally satisfied with the product. They like the way it looks, they like the way it works, and, even without any experience in this field, they immediately recognize the high level of quality.
All in all, after a 15-year run of an exceptional product, exceptional service, and an exceptional relationship/friendship, I am already looking forward to the next 15 years.
Steve
Steve Allen the Awning Man
---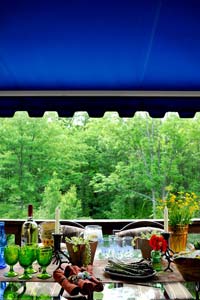 Blind Ambitions has been providing custom window treatments & Perfecta retractable awnings to the greater Lehigh Valley area for over 25 years. It's all about inside & outside living design complementing each other. With the support & encouragement of Mr. Bob Pozzuto, we sold & installed our first Perfecta retractable awning on our own deck in 1986 (photo on right). I tell my customers...when the plastic utensils melt on the table, it is time to bring on the shade...cooling everyone on the deck & the inside of the house too. You know you have happy, satisfied customers after the installation, when they invite you to stay for the neighborhood party on the deck!!! We make Perfecta Awnings "our choice" in product line because they are with you every step of the way; they offer personalized design advice, a quality product selection to meet all of the economic needs of my customers & provide a well-organized production facility. Our customers like the idea that Perfecta awnings are manufactured locally in Coopersburg, PA. They are also a family-owned & operated business that stands behind their products & their family of trained dealers. So again, Bob, Karen & the Perfecta family....thank you for the many years of your support in Blind Ambitions...
Janet & Gary
Janet Mertz Young
New Tripoli, PA
---
Perfecta has continuously met our expectations for quality and customer satisfaction on every level. It's a pleasure to do business with a company with such high standards and attention to detail.
"Bottom line, Perfecta has provided me with a retractable awning that has strength and durability at competitive pricing. Thank you for the excellent service, fast turn-around time, and for another successful retractable awning season."
Anthony Caponigro
Sun Bloc Sales LLC, Owner
Roseto, PA
---